Featured Item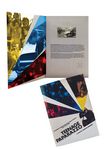 Video in Print Media Player for Custom P...
The perfect fusion of video, print, and sound. Incorporate high quality video content into any print collateral. Multiple screen sizes available. Up to 15 minutes of video content. Rechargeable batter...

Wild N' Wooly Marketing, Inc
Are you ready to "TAKE A WALK ON THE WILD SIDE" ? For 18 years we've been a leader in showing clients the power of branding with Promotional Products.

Thanks for stopping by, take some time to search or better yet, let us do that for you.

Don't let our silly name fool you, we are serious about your business!
CORPORATE APPAREL
Put your Brand on the Best in Corporate Apparel and Accessories!
Signature Showrooms